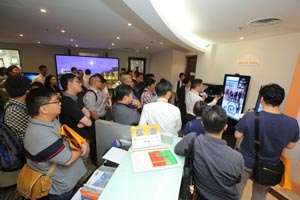 Media-Go Group of Companies held a 2-day Open Day on 1-2 June 2017 at Media-Go showroom and welcomed over a hundred guests to view and experience the latest audiovisual (AV) products and solutions. It was also a significant event to celebrate Media-Go's success to move towards its 30th Anniversary with the refreshing new image of the group.
The event was kick-started by the welcoming speech by Tony Yeung (Chairman of Media-Go) and he emphasized that Media-Go Group of Companies has been striving to provide professional, state-of-the-art and trustworthy AV and IT solutions and products distribution since its establishment in 1988. Media-Go recruited vibrant and energetic individuals to join the company in recent years to create its young and dynamic team and get ready for the upcoming challenges. William Ng (General Manager of Media-Go Engineering Ltd.) introduced the company profile and said that being one of the leading companies in the AV/IT industry, Media-Go has been providing impressive range of services and featuring superior one-stop solutions for government, retail, hospitality, education, commercial, finance and properties sectors.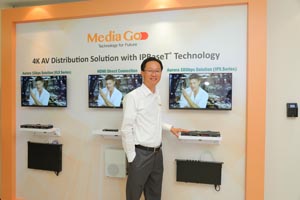 Tony took picture at Aurora 4K AV Distribution Solution display area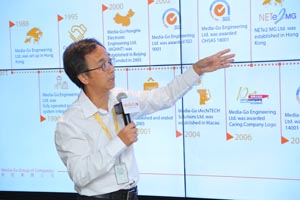 William Ng (General Manager of Media-Go Engineering Ltd.) presented Media-Go's company profile to guests
In consistence with the revamped Media-Go logo since early 2017, Media-Go showroom was mainly decorated in the new and energetic corporate color, orange. The overall theme showed the revitalization of Media-Go, with concepts of catching up with Technology for Future, and the mission of being at the forefront and leading AV/IT industry. Guests from various sectors, including media, government, finance, education, retail and information technology, were welcomed to the event and presented an innovative corporate gift. Guests were also invited to take memorial pictures at signing board on this special occasion to capture the precious moment. The feedback from the guests was keen and positive, and both guests and staff of Media-Go had joyful time together to share technology news and insights.
Media-Go not only revamped the corporate logo, more cutting-edge AV/IT systems have also been showcased in Media-Go showroom to show their determination to keep moving forward with innovative technologies. Customized for AV professionals and guests who are interested in experiencing advanced AV technologies, the Media-Go Open Day is a thought-leadership event for examining the strategic impact of AV technology and the importance of AV solutions to business, technology and any sectors. Through demo sessions and enthusiastic discussions, the communication among Media-Go and guests from different sectors was enhanced, allowing Media-Go to further understand what the guests need and show how they are capable of providing responsive solutions to help them. Guests could also explore how the advanced AV/IT systems aid in bringing us a better life and shaping a more hi-tech future!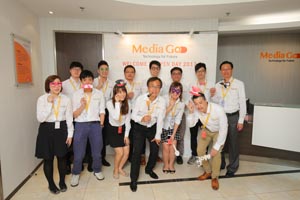 Tony and William took group photo with staff to record the memorable moments
Media-Go's Sales Manager demonstrated the cutting-edge AV/IT systems at a multi-function conference room, including curved TV wall, room control system and 4K Wireless Presentation and Collaboration System, etc.
Media-Go Open Day Highlights
The Award-Winning Aurora 4K AV Distribution Solution with IPBaseT® Technology
The industry-first IPX and VLX series transceiver is a single unit that can be recognised as a transmitter or a receiver. 4K video is supported without latency and compression. It is the all-in-one Transceiver that can replace scattered AV products to achieve easy management and low equipment cost. With unlimited scalability, Aurora IPX and VLX series transceiver is highly flexible and expandable to fit in any network switch infrastructure.
The industry-first IPX and VLX series transceiver: the only one you need for all
Classroom Recording System
Lecture/ class capture is becoming a popular tool that numerous universities and schools, or even corporates wish to adopt it as a key part of the learning and training process. It is also an important tool for teacher training and assessment, and for recording classroom situations. With automatic zoom function, not only the teacher or the talking student can be precisely captured, words on the blackboard and presentation PowerPoint on teacher's computer can also be clearly recorded.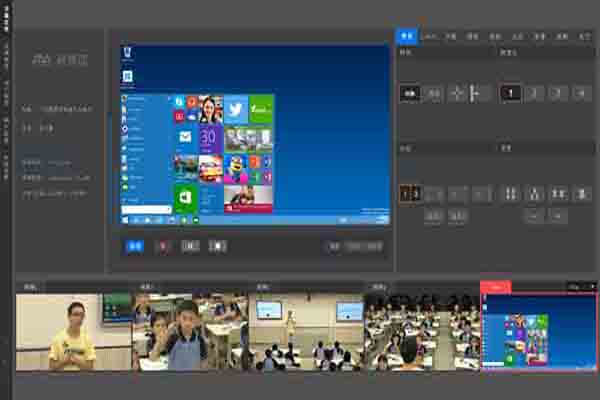 Classroom details can be distinctly captured from different angles
Curved TV Wall
The innovative, extraordinary curved TV wall is designed to fit in boardrooms or any environment, to show a single image/video across multiple displays. With a video wall controller, the display areas can be designed into different layouts with customized sizes and input sources.
Comparing with LED video wall, the construction of curved TV wall is more complex due to the technical difficulties brought by unfoldable TV displays. Media-Go's unmatched capability of installation with high precision and highly-flexible mounts make a curved TV wall possible!
The spectacular displays form a curved TV wall
4K Wireless Presentation and Collaboration System
You are always in sync! The Wireless Interactive Collaboration system enables quick and wireless sharing of ideas, media and documents, connecting people at anytime and anywhere. Simply using users' own laptop or mobile device, users can view, edit and comment on documents, share files and have videoconferencing with multiple members simultaneously, all on the main display. It aids in presentations and creates more dynamic meeting environments.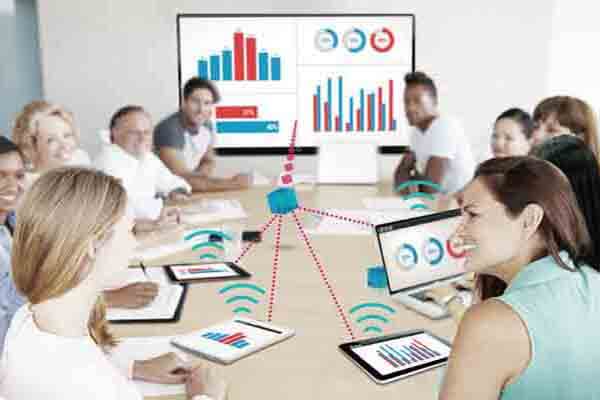 The system helps to facilitate communication in any meeting environment